AXIS Dance Company pledges to work towards full accessibility for all D/deaf and disabled people in all of our programs and services.
In our in-person and online performances, classes, and events, our goal is to always
center access from the ground up instead of adding accommodations as an
afterthought. We will always be working towards achieving full accessibility; there is no
'perfect' way to provide access for all, and we always have more to learn. Do you have
any feedback or accommodations that aren't being met? Please fill out our feedback form below.
Make an Accommodation Request
If you need specific accommodations for a virtual or in-person event that are not otherwise listed please, contact us at [email protected] with as much advanced notice as possible, at least 10 days before the event date.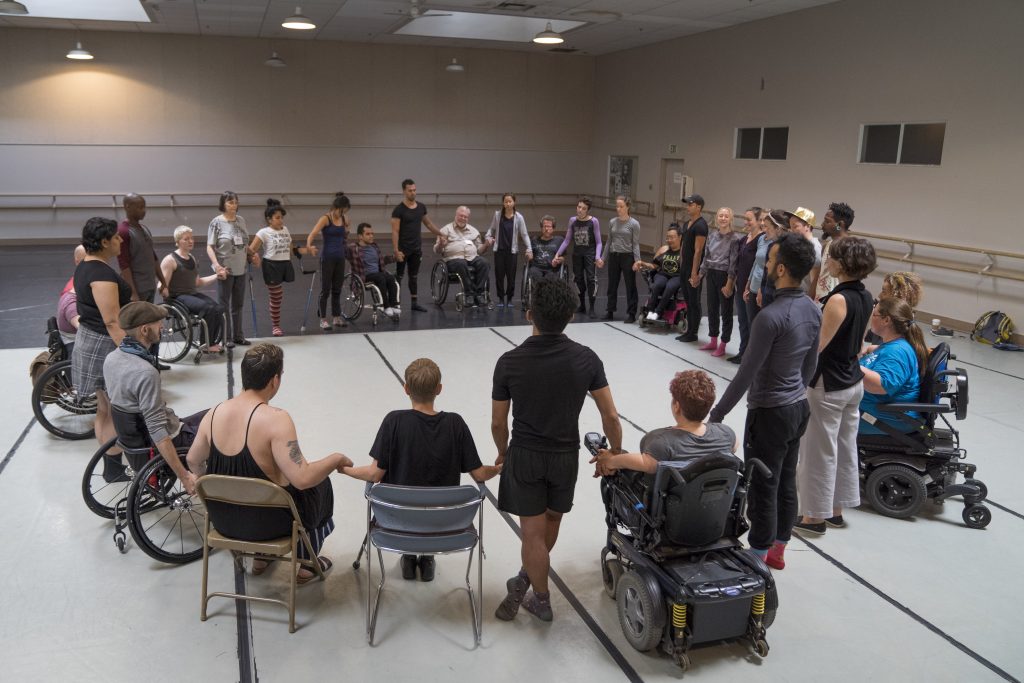 ---
Website & Virtual Events Accessibility
This website was developed in accordance with Web Content Accessibility Guidelines 2.1


All photos on our website, email communications and social media channels have ALT text Image Descriptions embedded for screen readers.


All new media are captioned for D/deaf and hard-of-hearing viewers; we are in the process of captioning archival media as well.


We will include Audio Descriptions in new media content whenever possible.


Click the Universal Access Symbol on the bottom left corner of our website to access the Userway Widget for additional accessibility features including contrast and cursor options, font size, dyslexia-friendly fonts and more.


Our Online Classes and Virtual Programs include Closed Captions; we strive to include CART Captions, ASL Interpretation and live Audio Description when possible and when requested. If you need specific accommodations for a virtual event, contact us at

[email protected]

with as much advanced notice as possible, at least 10 days before the event date.
---
In Person Accessibility
Our current studios and office are at Berkeley Ballet Theater, 1370 Tenth St, Berkeley, CA 94710. Berkeley Ballet Theater is is wheelchair accessible, one a single floor and with accessible restrooms with grab bars.


Berkeley Ballet Theater is accessible by BART, bus, and car. For complete directions, visit our Contact Page, linked here.


We strive to include ASL Interpretation, Audio Description, relaxed performance options and live Touch Tour experiences whenever possible for in-person programming.


Fragrance & Multiple Chemical Sensitivities: Although we cannot guarantee a completely scent-free space, AXIS' goal is to make our events as fragrance-free as possible for the health and safety of performers, audience, and staff with Multiple Chemical Sensitivities (MCS). We request that those who share our space please NOT wear fragrance or scented products when attending our events. However, we cannot control the use of all cleaning products, scents, or common food allergens within the building.

---
Feedback and Accommodation Requests
Do you know ways to make our online and in-person events more accessible? Are there accommodations you need that we are not providing? We'd love to hear from you and will do our best to accommodate you. Please click the link below to get in touch, with an option for anonymous feedback. In addition, if you wish to share your contact information, we will get back to you as soon as possible.