Investing in Disabled Choreographers
The 2023 AXIS Choreo-Lab ("the Lab") will take place in-person at AXIS' home base in Berkeley, CA Tuesday, May 30 – Saturday, June 10 2023! The Lab will be lead by mentors Nadia Adame and Christopher Unpezverde Núñez, with Choreographer Fellows Davian DJ Robinson, Larissa Velez-Jackson, Sammie Murray & Saira Barbaric.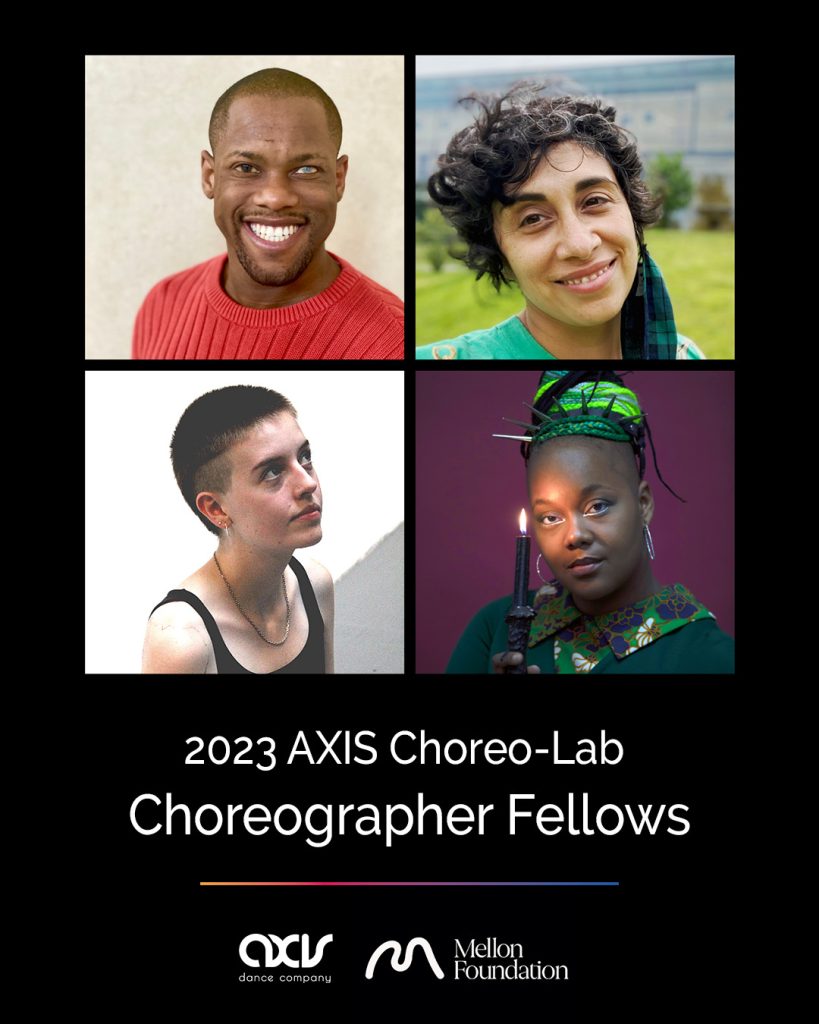 About the Lab
The goal of the AXIS Choreo-Lab Fellowship is to develop, refine and advance the artistic skills of emerging disabled choreographers. The Lab offers an inclusive environment where established, disabled artists mentor the fellows to challenge boundaries and explore perception changing art. During the Lab, participants will be led through a creation process stemming from their own concept, collaborating with an integrated group of performers including AXIS dancers and professional dancers from the local community. The Lab provides studio space, dancers, and administrative support for every choreographer. This opportunity also includes ongoing mentorship and professional development support in the year following the Lab.
Learn more about the artists and mentors below.
---
---
Choreo-Lab Mentors
Nadia Adame is a Spanish multidisciplinary award-winning artist with a spinal cord injury. She studied Ballet & Flamenco at the Royal Dance Conservatory of Madrid and has a BA in Theatre from the University of Colorado. She was a company member with AXIS (2001-2003) and Candoco Dance Company (2007-2008). In 2004, she co-founded and was the Co-Artistic Director of Compañía Y in Spain, a multimedia and performance collective. Nadia's credits include dance, theatre, commercial, and independent film projects in the UK, Spain, US, and Canada. As a performer, she has been featured in works by Stephen Petronio, Bill T. Jones, Arthur Pita, Rafael Bonachela, Davis Robertson, Sonya Delwaide, Marc Brew, Chevi Muraday and Asun Noales, among others. For more information, visit www.nadiaadame.com.
(b. Costa Rica, descendant of Mískito people) Christopher "Unpezverde" Núñez is a Visually Impaired choreographer, dramaturg, educator and Disability advocate based in NYC. Núñez is a Jerome Hill Artist Fellow 23′, a Dance/USA Fellow 22′, a Princeton University Arts Fellow 22′, and a Leslie-Lohman Museum of Art Fellow 18′. His performances have been presented by The Joyce Theater, The Brooklyn Museum-The Immigrant Artist Biennale, The Kitchen, Danspace Project, Movement Research at The Judson Church, The Leslie-Lohman Museum of Art, CUE Art Foundation, Battery Dance Festival, Performance Mix Festival and Dixon Place, among others. His work has been featured in publications such as The New York Times, The Brooklyn Rail, The Dance Enthusiast and The Archive: The Leslie-Lohman Museum bi-annual journal. He has held residencies at Danspace Project, Brooklyn Academy of Music (BAM), The Kitchen, Movement Research, Center for Performance Research, New Dance Alliance and Battery Dance Studios. As a performer, his most recent collaboration includes "Dressing Up for Civil Rights" by William Pope L, presented at MoMA, The Museum of Modern Art. Núñez was invited by the NYC Mayor's Office of Immigrant Affairs to share his story as a disabled and formally undocumented immigrant choreographer during Immigrant Heritage Week 2020. Núñez received his green card in 2018 and continues to be an advocate for the rights of undocumented disabled immigrants. https://unpezverde.com/
---
Choreo-Lab Choreographer Fellows
Davian Robinson (he/him) born in Hickory, North Carolina. He is a dancer/ choreographer, public speaker and former Paralympic athlete. He currently lives in Charlotte, NC, where he resides with his wife Tamara and guide dog Charlie. Davian completed his final year at UNC Charlotte earning degrees in both Dance and Exercise Science in Spring 2020. Davian has performed at Orsolina 28 and The Palace of Venaria in Italy, and in Charlotte, NC in UNC Charlotte Dance Concerts, MOVE Dance Alliance Concerts, Loose Leaves Showcase, and Reactions of Resistance. Notably, he was selected
to perform in Adidas "Impossible is Nothing" spec commercial, produced by Sugar Pop Productions and directed by Meg Games in 2018. Davian has been featured in the Charlotte Observer, Inside UNC Charlotte, Charlotte Magazine, and on UNC-TV's My Home, NC feature, Davian Robinson: Fearless. Davian founded and leads Sensory Beyond Sight: dance workshops which invite participants to experience movement without the use of their sight. Davian was invited to present Sensory Beyond Sight at the Alexander Technique national conference at Columbia University in New York, NY and perform original choreography at the historic Alhambra Ballroom. Davian is a professional Massage Therapist, cycling instructor, and holds a USA Paralympic National Title for the 1-kilometer Time Trial in cycling. Davian has been a Guest Artist and Collaborator with ShaLeigh Dance Works since 2019 and officially joined the company in 2021.
Larissa Velez-Jackson (LVJ) (they/she) is a choreographer, interdisciplinary artist, and teacher who uses improvisation as a main tool for research and creation. They are a Boricua-Italian-American originally from Newark, New Jersey, and an ongoing cancer survivor, committed to the healing potential of art and bodymind practice. Called "an adroit physical comedian" who "seems to be questioning entrenched conventions of contemporary performance" by The New York Times, LVJ creates works that offer audiences a warm entry into contemporary art's critical and political discourse. LVJ was named a Caroline Hearst Choreographic Fellow at Princeton University ('21-'22) and was recently awarded Dance/NYC's Disability. Dance. Artistry Residency ('22). In 2011, they launched an experimental song-and-dance collaboration with their husband, Jon Velez-Jackson, called Yackez, "The World's Most Lovable Musical Duo." Yackez presented a two-act world premiere at New York Live Arts in March 2017, entitled "Give It To You Stage," a year after LVJ received the prestigious Foundation for Contemporary Arts, Grant to Artists Award. In 2016, LVJ was also nominated for "Outstanding Emerging Choreographer" by the New York Dance and Performance "Bessie" awards. LVJ is the Artistic Director of their project-based company, LVJ Performance Co. The theme of healing of Self and Community continues in their new Yackez project that will begin its research at Jacob's Pillow's Pillow Lab in the spring of '23.
Sammie Murray is a multimedia artist, dancer, and creator who is immensely fascinated by anatomy, queerness, and monstrosity. They grew up based in a small town in Vermont where they became accustomed to living in the middle of nowhere and making friends with water bugs. Their interest in movement was cultivated in a third floor run down dance studio where mentors such as Isadora Snapp, Rose Leach, and Tracy Martin encouraged them into a career in the arts. During their time studying dance and bioethics at Mount Holyoke College, they have worked with Barbie Diewald, Shakia Barron, Sarah Lass, Jenny Bennet, Peter Jones, Jenny Oliver, and Tatiana Desardouin. Sammie has also trained with Bates Dance Festival, The Ailey School, David Dorfman Dance, Doug Varone, and AXIS Dance Company. Sammie's choreographic and pedagogical research as a trans, autistic, queer artist values accessibility and is deeply invested in centering marginalized identities, human messiness, and pleasure as a form of resistance.
Saira Barbaric (they/he/she/ze) is a multidisciplinary, gender-blending hedonist creature in a thicc Black disabled human suit. Since 2015, they/he has been based in Seattle creating performance, films, events and visual art that explore folklore, sex magic, Afro-Psychedelic dreams and glitches as expressionism. Saira's work has shown in theaters, bars, clubs and galleries all around North America and Europe.
---
The AXIS Choreo-Lab is made possible with support from the Andrew W. Mellon Foundation.
Photos by Misako Akinamoto
Choreo-Lab Archive
Click on a link below to learn about choreographers, mentors and dancers from past virtual and in-person Choreo-Labs.
Mentors: Jerron Herman and Nadia Adame
Choreographers: x, Audre Wirtanen, Sonya Rio-Glick