In June 2018, AXIS launched its pilot Choreo-Lab for disabled choreographers (The Lab) at our home studios in Oakland, CA. Led by AXIS Artistic Director and Lab creator Marc Brew, the 6-day Lab offered an inclusive environment where established, disabled artists mentored their peers to challenge boundaries and create perception changing art. The Lab's primary mission was to support mentorship and advancement of disabled choreographers.
Caroline Bowditch, Glasgow-based performance artist and maker, joined Brew as Lab mentor and co-facilitator. Both are internationally recognized disabled choreographers and performers. Together they bring a wealth of experience working with disabled and non-disabled artists and physically integrated and non-integrated dance companies world-wide.
The seven Lab choreographers were invited by Brew based on artistic experience, demonstrated interest in developing as choreographers, and future potential to develop and present work. They collaborated with a physically integrated group of disabled and non-disabled dancers, including the AXIS' 6 company members and 14 guest dancers, all of whom have worked with AXIS and in the field of physically integrated dance.
AXIS Choreo-Lab is funded by the Andrew W. Mellon Foundation.
Mentors
Marc Brew, AXIS Artistic Director | Choreographer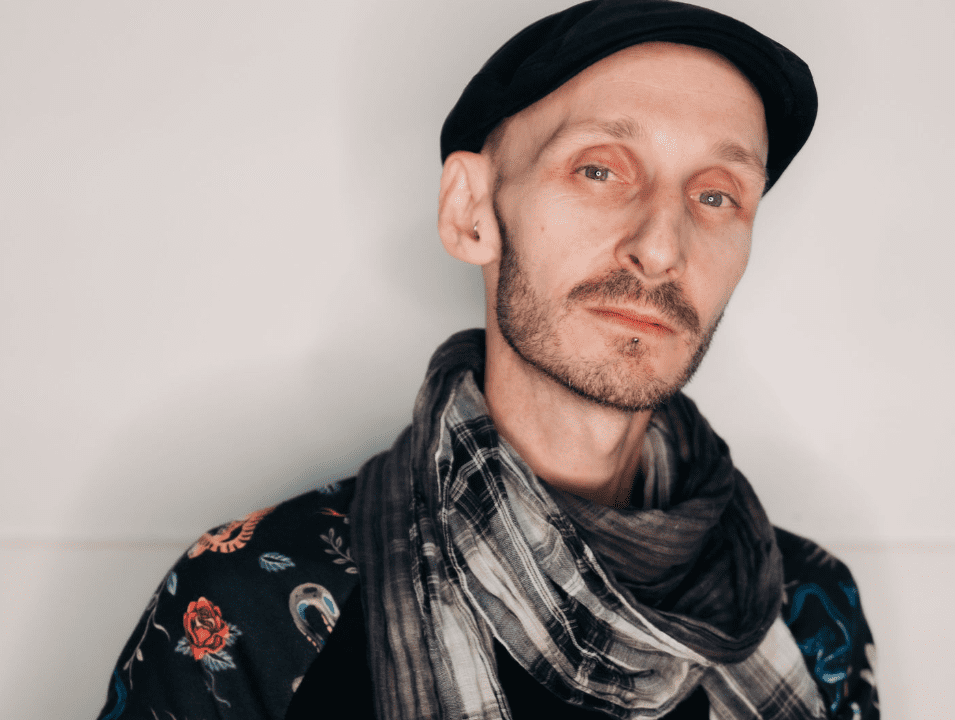 Acclaimed International choreographer and AXIS Artistic Director Marc Brew trained as a professional dancer at the Victorian College of the Arts Secondary School and The Australian Ballet School. He has been working in the UK and Internationally for the past 20 years as a director, choreographer, dancer, teacher and speaker; with the Australian Ballet Company, State Theatre Ballet Company of South Africa, Infinity Dance Theatre, CandoCo Dance Company and AXIS Dance Company. Marc was Associate Director with Scottish Dance Theatre, Associate Artistic Director with Ballet Cymru in Wales and was Associate Artist in 2015 at Tramway Theatre in Glasgow. Since 2008 Marc has been dedicating time to his own choreography with Marc Brew Company and his recent choreographic commissions include Scottish Ballet, Ballet Cymru, YDance, AXIS Dance Company (USA), Candoco Dance Company (UK), Touch Compass (NZ), Amy Seiwert's Imagery (USA), GDance, Scottish Dance Theatre, Greewnwich & Docklands International Festival and City of London Festival (UK). Marc was featured by Time Out Magazine as the best of the new breed of London's Rising Dance Talent and was presented with a Centenary Medal for Outstanding Contribution as a dancer and choreographer. His work Remember When was nominated for an Isadora Duncan Dance Award for Best Performance (individual) and his recent solo work For Now, I am… was listed in the Guardians Top 10 Dance Shows for 2016. For more information visit: marcbrew.com Photo by Maurice Ramirez.
Caroline Bowditch, International Performance Artist & Choreographer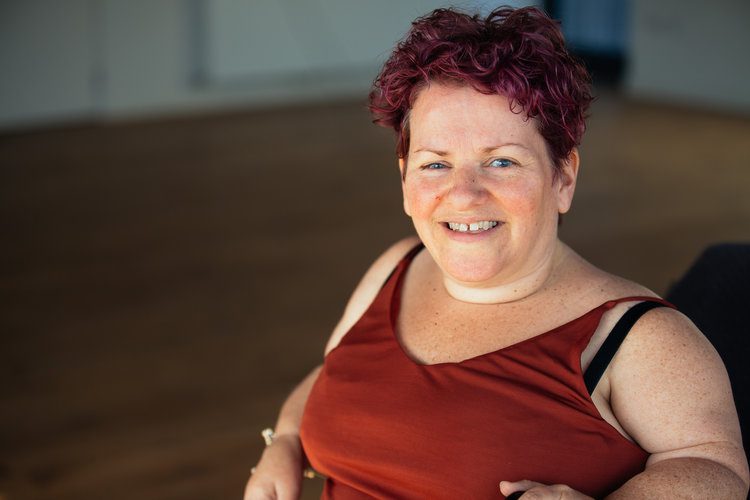 Glasgow based, but Australian born, performance artist and choreographer, Caroline Bowditch, describes herself as a performer, maker, teacher, speaker and mosquito buzzing in the ears of the arts industry in the UK and further afield.

She has choreographed/performed work as girl jonah with Fiona Wright, created her own work Proband (2007) after being awarded a Wellcome Trust Arts Grant and co-created NQR and the Long and the Short of it as Scottish Dance Theatre's Dance Agent for Change (2008-2012). In 2012, Caroline created Leaving Limbo Landing for the Cultural Olympiad and in 2014 createdFalling in Love with Frida, which was awarded a prestigious Herald Angel award, and continues to tour locally and internationally. She was recently commissioned, by Unlimited and the Northern Festivals Network, to create and tour The Adventures of Snigel.

Caroline is a founder member of Weave Movement Theatre (Melbourne) and The FATHoM Project (Newcastle), is Artist in Association with Paragon Music (Glasgow) and was Visiting Professor at Coventry University. Her consultancy work in accessibility and inclusivity includes ongoing work with Skånes Dansteater, Sweden and most recently with Australian organisations Access2Arts, Arts Access and the Australia Council for the Arts.

She has led international residencies in Italy, Switzerland and Germany is regularly invited to be mentor local, national and international artists at all levels of their artistic development. In 2017, Caroline will be Associated Artist with Dance 4, Paragon Ensemble, Tramway and Imaginate.
Choreographers
Julie Crothers
Julie Crothers is a freelance dancer, choreographer, and educator based in Oakland, CA. Born and raised in Nashville, TN, Julie pursued a degree in Dance and Arts Administration at Elon University in North Carolina. Following graduation, Julie moved to the Bay Area to join AXIS Dance Company, where she worked for 3 years- performing, teaching, and touring to over 25 cities nationally and internationally. Professionally, Julie has also danced for Renay Aumiller Dances (RAD) based in Durham, NC, Sarah Bush Dance Project (Oakland, CA), and Tara Pilbrow Dance (Alameda, CA). Julie's choreography has been presented on stages throughout the southeast United States and San Francisco Bay Area. In addition to focusing on creating and producing her own work, Julie has a passion for teaching and is currently on staff at Shawl-Anderson Dance Center, Performing Arts Academy of Marin, and Berkeley Ballet Theatre.
Laurel Lawson
Laurel Lawson is a choreographic collaborator, dancer, designer, and engineer with disability dance company Kinetic Light. She is the primary costume and makeup designer, contributes other technical and production design, and designed the wheelchairs that she and Alice Sheppard use in performance in collaboration with Paul Schulte, lead engineer for Top End. She is also the product designer and lead for access and software initiatives such as Audimance, the company's app which revolutionizes audio description for non-visual audiences, and Access ALLways, the paradigm and collected practices for holistic disabled-led accessibility.
Realizing that dance combined her lifelong loves of art and athleticism, Lawson began her professional dance career with Atlanta's Full Radius Dance in 2004. She continues to work with Full Radius Dance as well as Kinetic Light and her independent practice, which includes traditional choreography as well as transdisciplinary work which explores novel ways of creating and extending art through technology and design.
Laurel's choreography is marked by intensive partnering and grounded technique. Bringing the nuance of disabled artistry, she creates work for all ensembles including nondisabled, disabled, and physically integrated companies. She often weaves together abstract and concrete themes with overarching mythological inspiration, with focus on engaging and immersive audience experience. Her work has been recognized with a 2019-20 Dance/USA Artist Fellowship. Dance/USA Fellowships to Artists are made possible with generous funding from the Doris Duke Charitable Foundation.
Perel
Perel (they/their) is an interdisciplinary artist based in New York. Working among the forms of dance, installation, and writing, their research is focused on choreography and disability, crip time and queerness, power and access, and pain and desire. Perel has received commissions from the Department of Cultural Affairs, Chicago for Site Unseen: Disabling Conditions and for the 25th Anniversary of the Americans with Disabilities Act for which they collaborated with artist and long term HIV survivor, Gregg Bordowitz, on the performance, Bodies At The Center. Perel has also received commissions from The Chocolate Factory Theater and FringeArts, and has been presented at Danspace Project, Judson Memorial Church, Golden Gallery, Pseudo Empire Gallery, Dixon Place, and Center for Performance Research (NY), DIVO Institute (Prague, CR) and Medium Gallery (Slovakia) among others. Perel is a Lecturer at the School of the Art Institute of Chicago Low-Residency M.F.A. and has been a visiting artist at University of Michigan, Bryn Mawr, Barnard College, Wesleyan University, etc. They created the column, "Gimme Shelter: Performance Now" for Art21 Magazine, and co-edited Critical Correspondence, the online journal of Movement Research. Their recent work, (do not) despair solo, premiered at the American Realness Festival in January 2018.
Toby MacNutt
Toby MacNutt is a queer disabled interdisciplinary artist, author, and teacher living in Burlington, VT (USA). Their artforms include dance and choreography, textiles, and visual arts, and their publications include both fiction and poetry. At VSA Vermont Toby manages arts integrated programming for high school youth with and without disabilities, and run an arts-based adult-to-youth mentoring program. Toby has danced for Murmurations Dance immersive site work "When Women Were Birds", Lida Winfield, and Heidi Latsky's "GIMP", among others; their independent evening work "One, Two" showed locally and internationally. Currently they are developing new solo choreography, and performance installation work that will combine dance, visual arts, soundscapes, and poetry. Find out more: tobymacnutt.com
Neve Kamilah Mazique-Bianco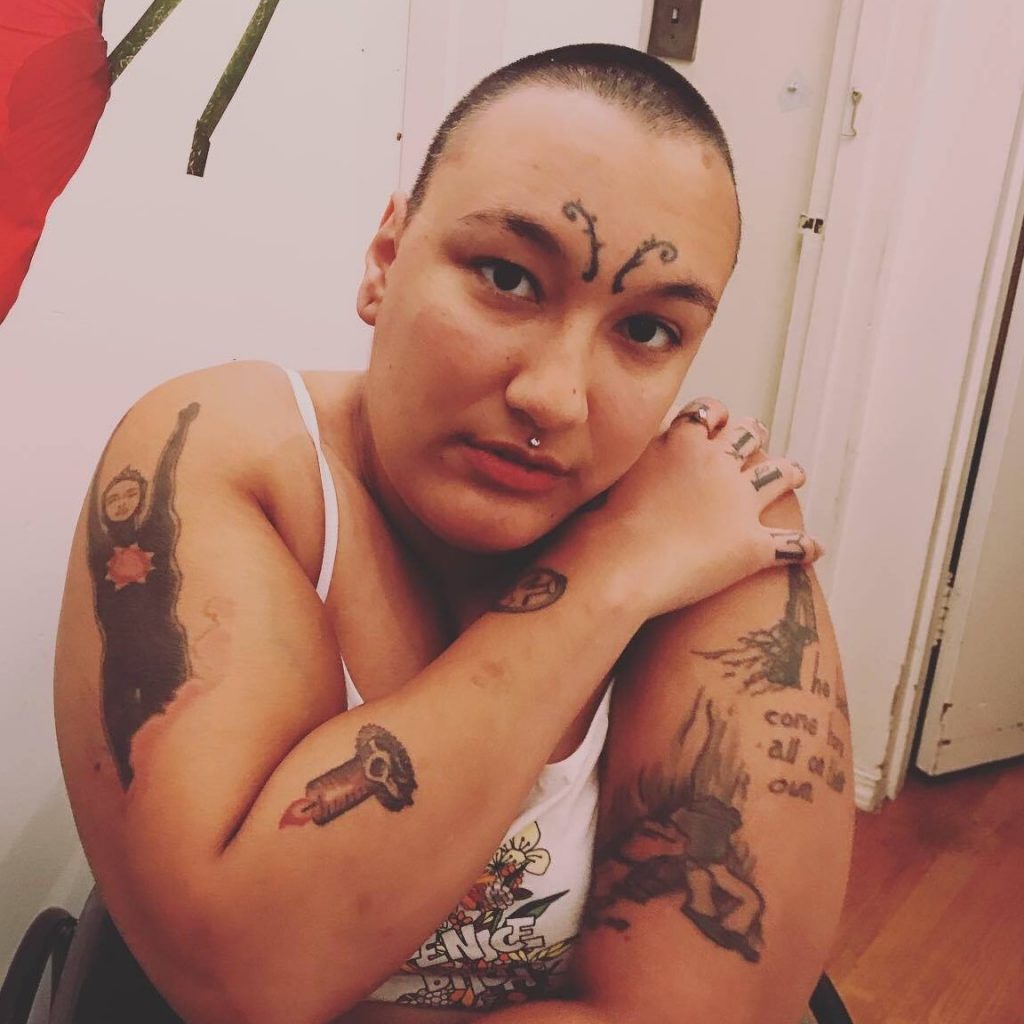 Neve Kamilah Mazique-Bianco is a dancer-choreographer, singer-songwriter, actor-playwright, activist, body scientist, and accessibility engineer living in Seattle. They have been published abundantly online, and directed and performed in dance on films which have toured around the world. In 2017, Neve won Seattle Gender Justice League's Celebration Award for directing and performing in the play Rising Up, written by Sarah Rosenblatt and Ebo Barton. They also performed and spoke at Berlin's contemporary theatre venue Hebbel Am Ufer, as a part of Tender Provocations of Hope and Fear, and Berlin's No Limits Festival. Mazique-Bianco received physically integrated dance teacher training from AXIS Dance Company, and is now pursuing NASM's Personal Trainer certification in order to bring self love and motivation to more populations and bodies. They are a member of performance project Sins Invalid, founder of production house Badhouse Processions, and writer, director, star of the musical play-ballet Bet Ya UnGodly Things.
Mark Travis Rivera
Mark Travis Rivera is an award-winning professional storyteller. Whether it is through verbal or written communication, or through dance, telling stories is at the core of Mark's purpose in life. A graduate of William Paterson University of New Jersey, Rivera earned a bachelor's in women's & gender studies with a minor in public relations.
Rivera is the youngest person to found an integrated dance company in the United States. marked dance project, a contemporary company for dancers with and without disabilities, established in March 2009, made its debut at Rutgers University. The company has also performed at the Silk City Summer Arts Festival, the Painted Bride Art Center, the Mandell Theater, the Actor's Fund Arts Center in Brooklyn, NY and New York University. Through MDP, Rivera has worked with choreographers such as Maureen Glennon, Caitlin Trainor, Stacey Tookey, Todrick Hall, Tyce Diorio, and Marinda Davis. After ten years of remarkable dancing, Rivera decided to dissolve the marked dance project and continue working as an independent choreographer. He has long used writing as a form of expression. His poem, Love Letters to Myself (Excerpts) was published in a new anthology, Between: New Gay Poetry. His essay, Marking My Own Path: An Inner City Dreamer was published in the anthology, I Am Here: The Untold Stories of Everyday People. Rivera's writing has also been published in The Bergen Record, Herald News, The Star Ledger, Fox News Latino, and The Huffington Post. His debut collection, Drafts: An Imperfect Collection of Writing was published in August of 2017 through Amazon. Rivera resides in Oakland, California.
Alice Sheppard
Alice Sheppard is the Artistic Director of Kinetic Light, as well as a choreographer and dancer in the company.
Sheppard took her first dance class in order to make good on a dare: After his final performance, disabled dancer Homer Avila challenged Sheppard to begin to dance. She did, and she loved moving so much that she resigned her academic professorship at the Pennsylvania State University in order to begin a career in dance.
Sheppard studied ballet and modern dance with Kitty Lunn and made her debut with Infinity Dance Theater. After an apprenticeship, Sheppard joined AXIS Dance Company, where she toured and taught in the company's education and outreach programs. Since becoming an independent artist, Sheppard has danced in projects with Ballet Cymru, GDance, and Marc Brew Company in the United Kingdom and Full Radius Dance, Marjani Forté, MBDance, Infinity Dance Theater, and Steve Paxton in the United States. Her choreography has been commissioned by Full Radius Dance (2019), CRIPSiE (2016), and MOMENTA (2019, 2016 and 2014).
As an emerging and Bessie award-winning choreographer, Sheppard creates movement that challenges conventional understandings of disabled and dancing bodies. Engaging disability arts, culture, and history, she is intrigued by the intersections of disability, gender, and race. In addition to performance and choreography, Sheppard is a sought-after speaker and has lectured on topics related to disability arts, race and dance. Her writing has appeared in the New York Times and in academic journals.
Dancers
AXIS Company Dancers
Dwayne Scheuneman, Eddy Rodriguez, James Bowen, JanpiStar, Lani Dickinson, and Yuko Monden Juma
Choreo-Lab Dancers
Aaron Spencer, Adonis Martin, AJ Guevara, Bhumi Patel, Dawn Emily States, Elena Martins, Hannah Westbrook, Heidi Cash, Juliana Monin, Keanu Brady, Kelsey Gerber, Leesha Zieber, Munya Mahiya, and Roya The Destroya
AXIS Choreo-Lab is generously funded by the Andrew W. Mellon Foundation
Alice Sheppard