In the summer of 2018, AXIS launched its pilot Choreo-Lab for disabled choreographers (The Lab) at our home studios in Oakland, CA. Led by AXIS Artistic Director and Lab creator Marc Brew, the 6-day Lab offered an inclusive environment where established, disabled artists mentored their peers to challenge boundaries and create perception changing art. The Lab's primary mission was to support mentorship and advancement of disabled choreographers.
In 2019, AXIS brought back two choreographers– Neve Kamilah Mazique-Bianco and Toby MacNutt for an intensive week with Marc Brew to further develop and present their work at AXIS' Choreo-Lab Showing June 7, 2019.
AXIS Choreo-Lab is funded by the Andrew W. Mellon Foundation.
Mentor
Marc Brew, AXIS Artistic Director | Choreographer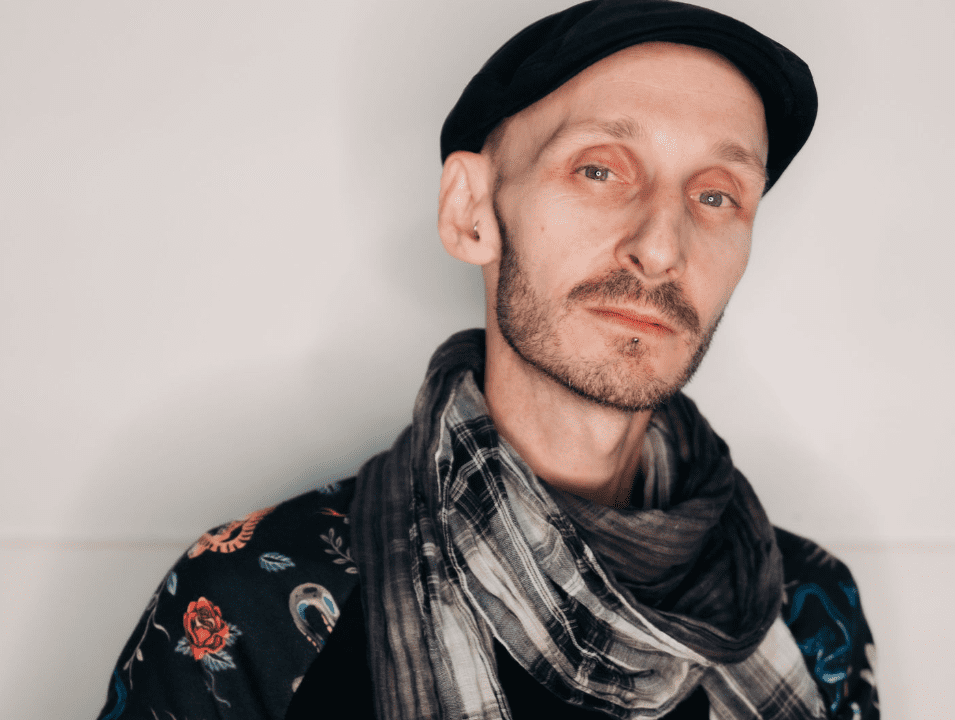 Acclaimed International choreographer and AXIS Artistic Director Marc Brew trained as a professional dancer at the Victorian College of the Arts Secondary School and The Australian Ballet School. He has been working in the UK and Internationally for the past 20 years as a director, choreographer, dancer, teacher and speaker; with the Australian Ballet Company, State Theatre Ballet Company of South Africa, Infinity Dance Theatre, CandoCo Dance Company and AXIS Dance Company. Marc was Associate Director with Scottish Dance Theatre, Associate Artistic Director with Ballet Cymru in Wales and was Associate Artist in 2015 at Tramway Theatre in Glasgow. Since 2008 Marc has been dedicating time to his own choreography with Marc Brew Company and his recent choreographic commissions include Scottish Ballet, Ballet Cymru, YDance, AXIS Dance Company (USA), Candoco Dance Company (UK), Touch Compass (NZ), Amy Seiwert's Imagery (USA), GDance, Scottish Dance Theatre, Greewnwich & Docklands International Festival and City of London Festival (UK). Marc was featured by Time Out Magazine as the best of the new breed of London's Rising Dance Talent and was presented with a Centenary Medal for Outstanding Contribution as a dancer and choreographer. His work Remember When was nominated for an Isadora Duncan Dance Award for Best Performance (individual) and his recent solo work For Now, I am… was listed in the Guardians Top 10 Dance Shows for 2016. For more information visit: marcbrew.com Photo by Maurice Ramirez.
Choreographers
Toby MacNutt
Toby MacNutt is a queer, nonbinary trans, and disabled dancer/choreographer, author, and teacher living in Burlington, VT. They make dance work for crutches, wheels, ground, and aerial fabric. In June 2018 Toby premiered Enter the Void, a performance installation in the darkness of space, accompanied by a sci-fi poetry guidebook. Toby also danced with Murmurations Dance immersive site works When Women Were Birds and "Bone Hooks", Lida Winfield, and Heidi Latsky's GIMP, among others; their 2014 independent evening work One, Two showed locally and internationally (Let's Dance International Festival, UK).
Recent publications of Toby's poetry and prose include Vulture, Arsenika, Strange Horizons, and Liminality magazines; collection in Transcendent 2 from Lethe Press (starred Publishers Weekly, Locus Recommended List, Lambda Literary finalist); and their debut collection If Not Skin from Aqueduct Press. Their written work, much as their dance work, often explores questions of embodiment and selfhood, with shapeshifters, robots, and creator archetypes, as well as plenty of queer love.
When not dancing, writing, or creating, Toby is a teacher/trainer, facilitator, and planner, working with nonprofits, colleges and schools, performance venues, artists, and all kinds of community groups to help them chart a path toward a more inclusive future. Find out more about all Toby's work at www.tobymacnutt.com or say hi on twitter @tobywm / instagram @tobymacnutt. Photo by Owen Leavey.
Neve Kamilah Mazique-Bianco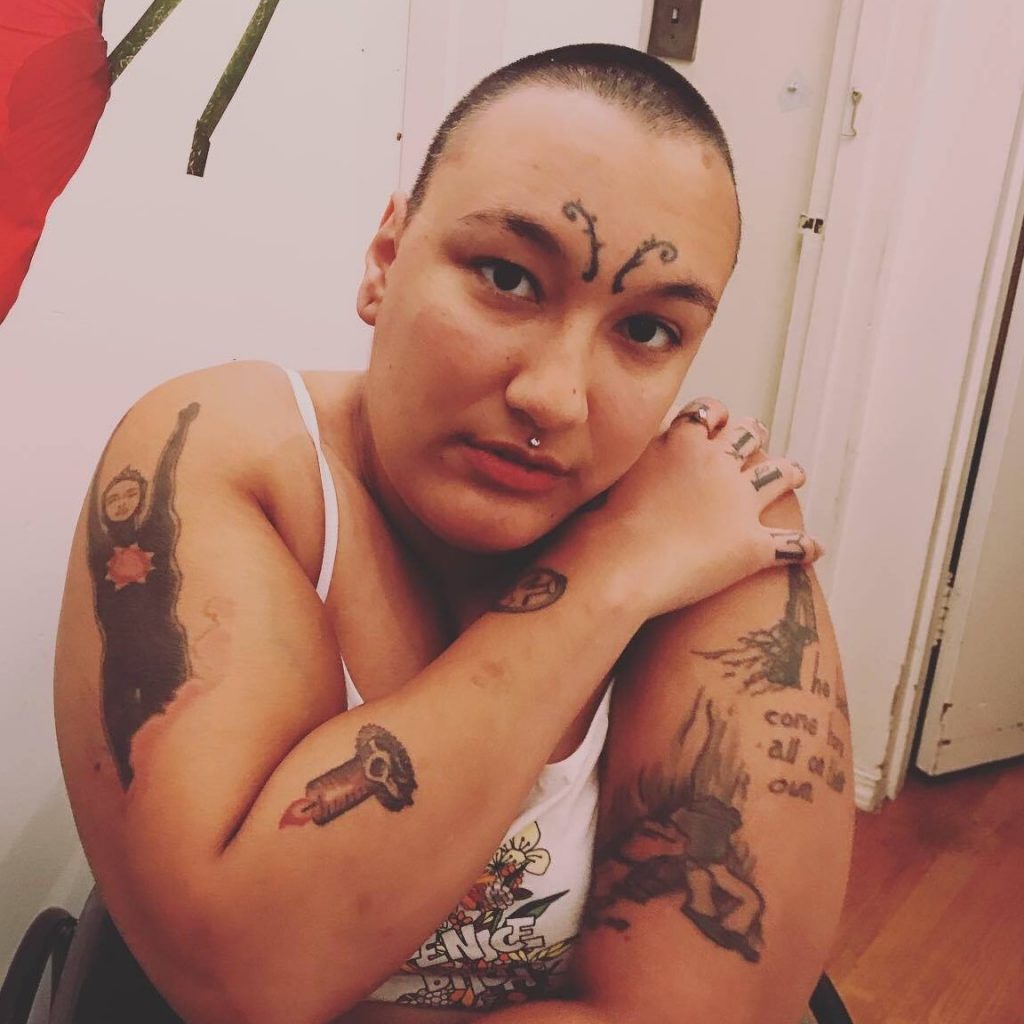 Neve Kamilah Mazique-Bianco, or NEVE, is a mixed Black (specifically Sudanese, even more specifically Nubian, mixed with Arabic, Mediterranean, and Scottish/English) punk disabled queer femme fairy beast. An internationally performing, teaching, and presenting choreographer, playwright, composer, performance artist, integrated movement educator and activist, NEVE has been making things move for 21 years.
A certified personal trainer and integrated dance teacher trained by NASM and AXIS Dance Company, respectively- NEVE cares about the welfare and equitable access to joy, sensuality, community, self-expression, and liberation of all bodies. Especially animals. Like ideally they'd like to be a physical therapist/somatic therapist/dance teacher/and freedom fighter for animals, however animals would like to employ shim.
Neve received multiple film and theatre directing awards in 2017, from East Bay Express in Oakland, the Toronto International Porn Festival, and from the Seattle Gender Justice League. In spring 2018, Neve joined the artistic board of directors of PlayThey Studios, a media and event production cooperative company of queer/trans/Black/disabled and otherwise marginalized artists building celebratory spaces in Seattle. Neve is one of the first four recipients of the PNW Afro X Fellowship, a research fellowship for African American artists created in collaboration by The Seattle Public Library and the Central District Forum, as well as the recipient of a 2019 City Artist grant, both of which benefit production of their new evening length work Lover of Low Creatures. This work is a sung-through Nubian musical ballet, co-produced by Velocity Dance Center and Play They Studios, featuring musical production and accompaniment by JOY MA and Evan Flory-Barnes and directed by Sara Porkalob.
Neve lives with their partner, friends, animals, and plants in Duwamish Territory/Seattle. You can book Neve for a performance, consult, class, private movement session, or just to say heeeey, via their website at nevebebad.com.
Dancers
AXIS Company Dancers: Bradford Chin, AJ Guevara, JanpiStar, Lani Dickinson and Yuko Monden.
AXIS Choreo-Lab is generously funded by the Andrew W. Mellon Foundation